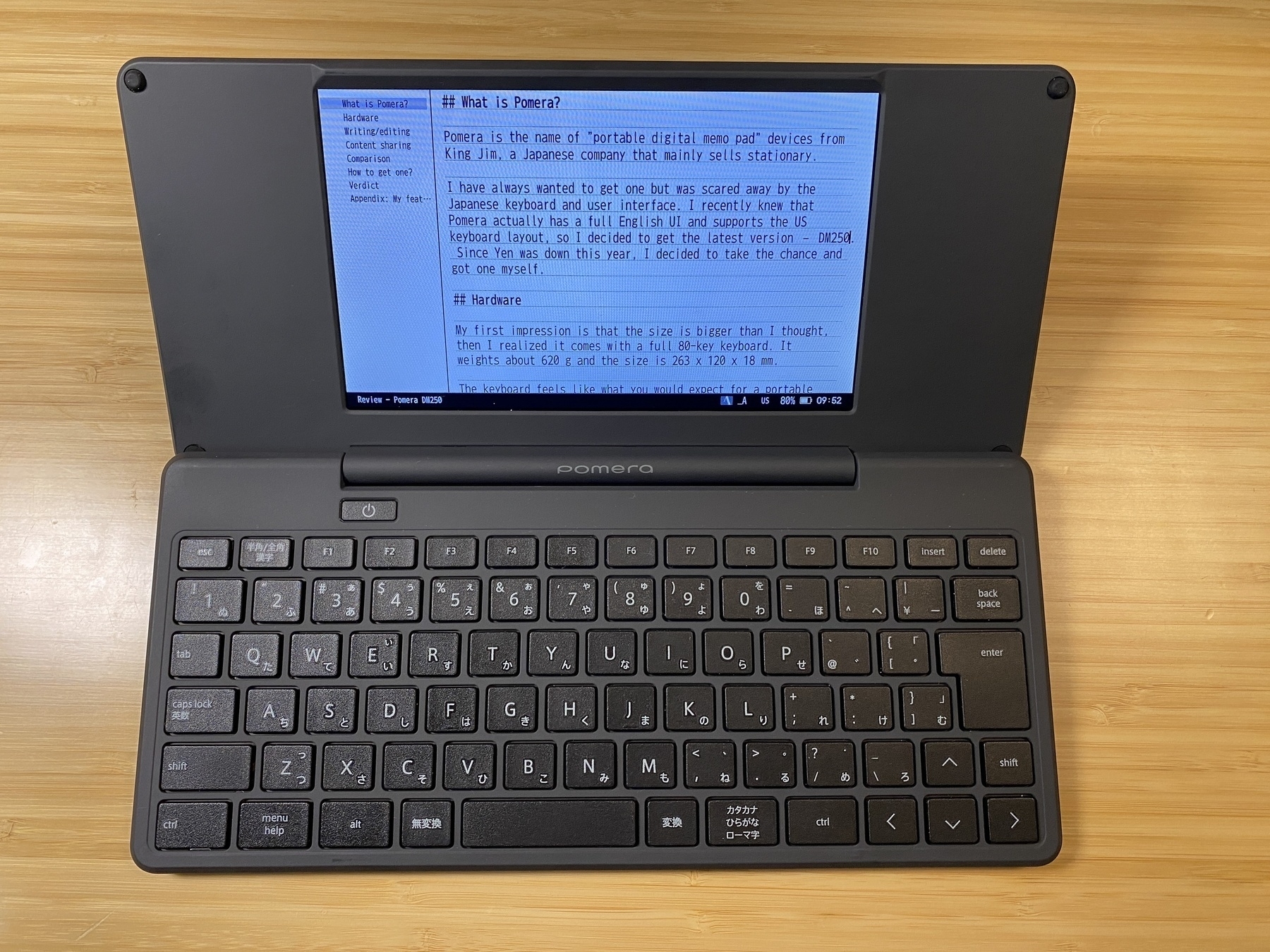 What is Pomera?
Pomera is the name of "portable digital memo pad" devices from King Jim, a Japanese company that mainly sells stationery.
I have always wanted to get one but was scared away by the Japanese keyboard and user interface. I recently knew that Pomera actually has a full English UI and supports the US keyboard layout, so I decided to get the latest version – Pomera DM250. Since Yen was down this year, I decided to take the chance and got one myself.
Hardware
My first impression is that the size is bigger than I thought, then I realized it comes with a full 80-key keyboard. It weights about 620 g and the size is 263×120×18 mm.
The keyboard feels like what you would expect for a portable keyboard, and even with this expectation it's on the weak side. I won't say the keyboard is joyful to type, as I am used to the mechanical keyboard I got half year ago. The typing sound is quiet, so there shouldn't be an issue to use in a quiet setting.
The keyboard layout will take some time to get used to. I started with a lot of errors, then I realized that the keyboard is actually a bit leaning toward the left side. It supports the US layout so I don't need to learn the Japanese one, but the print is in the Japanese layout. They provide stickers to "overwrite" the print, though I haven't use them because most of my muscle memory is correct.
At the start, I didn't know why sometimes the keyboard gives me double typing even though I didn't feel I did that. It's probably because of the typing depth is shallow and without the ability to bounce back, so I kept my finger on a key for too long. The other reason may be because of the "simultaneous key determine time", and I changed it from the longest possible to the shortest possible. This seems to reduce the chances it detects false double clicking.
The screen is a monochrome TFT and have the ability to adjust the brightness. It's big enough that editing is workable to perform. The battery is enough, similar to my experience with a Kindle. With my heavy first-week usage, it went down to about 40%. It is quiet enough if the battery can last for two weeks. The charging time seems to be longer than I expected, as the first full charge is about 6 hours if I remembered correctly. It is a fingerprint magnet, where the fingerprints are very easy to stick on the exterior. This is top complain I have, even though it doesn't affect the usage.
Writing/editing
It's a pretty decent writing/editing environment. There are several available font size with 2 available fonts. The adjustable backlight makes it comfortable to write in different light settings. There are keyboard shortcuts that are like the Windows settings to help navigate through the document.
It has the outline feature to break down large documents into small sections and jump to a specific header. The headers in the outline is also hierarchical, so I can see the tree structure based on the headers. It can split the screen into two to compare different sections of a document or even a different document. Those are useful editing features that I didn't expected this device to provide.
I like the ability of having grids when I write. I never use a text editor that provides this functionality, but I feel more calm and organized when turning on the grids. The built-in font may not be my favor, but there is at least one font that I am comfortable living with. I have never been a template guy but I started to use the template function within it.
Content sharing
Pomera is meant to be a device for drafting so it supports several ways to get the document out. The quickest way is to generate QR codes and scan them with the Pomera companion app. Then the doc can be shared through the sharing menu on an iPhone. One may also use the wifi sharing to connect the app to the device directly. One may also connect the device through a USB cable to a computer and it will work like an external drive. There is another way to send the document out through email, though I never use it.
To me, the most convenient way is to use a SD card to save and transfer the documents. Based on the company policy, I shouldn't share or store anything online, so I can't use lots of online services. With Pomera, I can type a draft, store it in an SD card, and load it in my work laptop. I can also go the other way to transfer my existing notes quickly and seamlessly to the device.
How to get one?
I would recommend going through Amazon.jp to purchase one, given the reasonable price you will get and the shipping should be uneventful. This is the route I took, but YMMV. The price on eBay is almost double compared to the Amazon JP price, so I can't think of a good reason buying there.
Note that on the box it says that "This product is for use only in Japan", so I assume the warranty is non-existed. Please use your own judgement.
Verdict
Pomera is now my favorite "thinking" device. As a distraction free writing device, it does what I would expect and more. I am able to write and think more than an hour until I realized it.
It is also a convenient brain-dumping device. I only need to wait for 4 seconds to get into an environment that is ready for me to type down any thoughts that I have.
I also use it for note taking, even though I won't be able to do note linking and see backlinks on it.
I know I am still in the honeymoon period as I am trying to do as much as I can with it, but I am sure it will at least be a fantastic device for initial drafts.
Appendix: My feature wishlist
Below are a couple of wishes that I have, written in the "user story" format. They range from "this should be easy to do" to "why will they do that". I share them more like a public rant, but this may help you understand the limitations or problems.
As a Pomera user:
I want to have the word count instead of the character count in English so I can know how long a document is.
I want to save calendar entries to the SD card so I can view and edit them on my computer through the SD card.
I wan to have a better exterior painting so the device doesn't look dirty.
I want to have an e-ink screen with backlight so I can keep staring at the screen and don't have sore eyes.
I want to have backlighted keyboard so I can type in dark.
I want to have a keyboard with more feedback so I can enjoy the typing.
I want a built-in English to English dictionary so I can look up words when writing.
I want to have a English keyboard version so I don't need to rely on stickers.
I want the ability to connect other bluetooth keyboard as the input source so I can use my mechanic keyboard if I prefer.