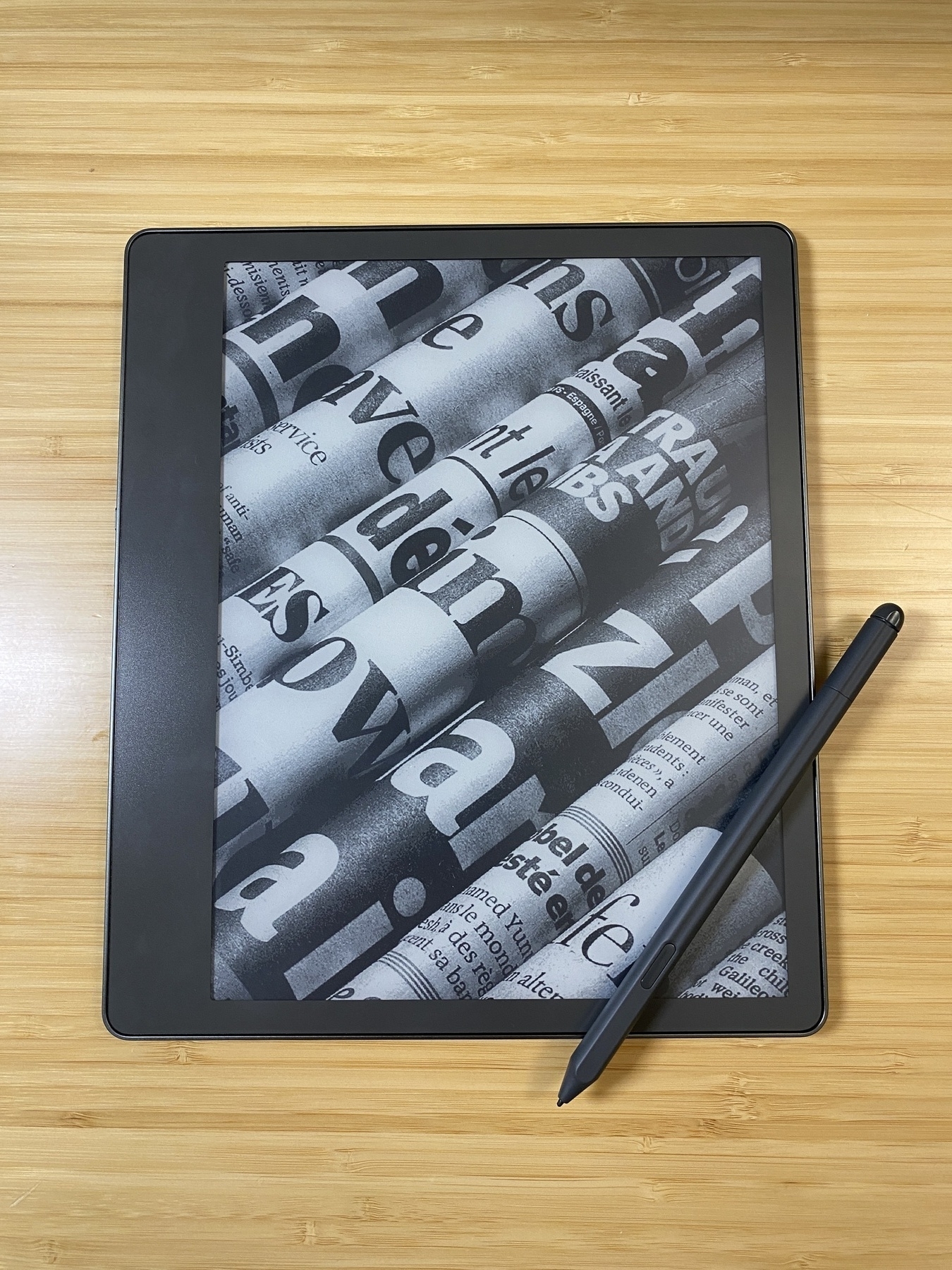 A bit about myself
I would like to share my experience on similar devices before talking about Kindle Scribe, so you may understand my perspective more. Please feel free to skip this section.
I am always keen to e-ink readers as I always feel it's more comfortable for my eyes to read with them. My first e-ink reader was a Kindle DX. I owned a couple more Kindles after that – 2 Paperwhite, a Voyage, and an Oasis. I bought a lot of books through Amazon along my Kindle journey.
Reading PDFs was a big reason for me to buy a Kindle DX. Yet, every Kindle after the Kindle DX isn't suitable for that purpose. I had to turn to other non-Kindle devices after my Kindle DX died. I tried a first generation of Boox Note and a first generation of Remarkable. (The Remarkable was originally for my wife. I keep it when she switched back to use pen and paper). The main problem with them is that they are not Kindle, so I have to split my reading between two devices. In the end, it is too much to carry two devices and I gave up.
This is why I pre-ordered Kindle Scribe. It's a device I have been waiting since my Kindle DX died. I wanted it as long as it has a big screen, even if it doesn't have a pen. I hoped a single device can handle my reading needs.
For digital writing, I used iPad with Notability and Good Notes to take class notes (around 2012). They are all good apps that compensate the limitation of the digital writing at the time. I got a iPad Pro with Apple Pencil back in 2019 to see if I was able to go back to digital writing. But, I don't like the writing experience – writing with a hard tip on a piece of glass isn't delightful. And I always forgot to charge the Apple Pencil.
I tried smaller devices such as Sharp's electronic notebook or Mobiscribe. The good thing of these devices is that the form factor is small and easy to carry around. But with the size, they mainly replaced stick notes, not a full size notebook. Another problem of the Sharp's e-notebook is the screen reflection, which makes it nearly unusable unless having a right light direction. The Mobiscribe I owned is the first generation, which is slow and lagging, and that impacts the writing experience.
First impression
First of all, this is a Kindle. It has the same control to move forward and backward; it has the same "Home", "Library", and Kindle store. The menu is almost identical so there isn't too much to learn. Other than a bigger screen, the most obvious change is the new "Notebook" tab. For any Kindle user, the overall experience is familiar.
Hardware
The Kindle Scribe feels solid and sturdy. The metal back gives a premium feel to it. The bezel is a plus when holding the device, as it's possible to lay the thumb at the front to balance the weight. The device is on the heavy side, so holding it for a long time may not be preferable. I use it by the desk most of the time so weight is not an issue.
The pen is one of the best I have ever used. Other pens are made with plastic and feel light in hand. I have the Premium Pen and it has a balanced weight to hold for a long time. It can stick to the device side so carry it around is an easy job. It uses the same Wacom technology as Boox, Remarkable, and Mobiscribe, so I can use the same pen on other devices.
The battery is why Kindle Scribe is so useful. It lasts for a week for my first week usage, with reading, writing, and backlight on. Most of non-Kindle devices I listed don't have similar battery time. I am always charging a device or it is out of battery when I try to use it. Weak battery is the main reason I dumped other writing-focused devices. If they can't be there when I need them, I would rather rely on pen and paper.
The backlight is an important factor to me. I wrote on Scribe in the middle of the night a couple times last week. The midnight thoughts are always quirky and fade out fast, so having Scribe on the side help catch those thoughts so I am able to review it later in the day.
Kindle Scribe seems to be the fastest Kindle I ever own, and the nimbleness shows up in every aspect. Opening up a book, page turns, even browsing the Kindle store are all faster experiences.
Reading
Kindle Books
It is the biggest and fastest Kindle so far, and size and speed matter in reading. It's a much enjoyable reading experience, even if it's reading plain-old Kindle books. The bigger screen means more words in a single page, and having a pen in hand makes highlighting and look-ups more accurate.
Magazines
It's a surprise to me that Amazon hasn't optimized magazine rendering for Kindle Scribes. There is no way to see magazines in the full-page view. Maybe it's because the processor isn't fast enough to render the whole graph, but that's a bit disappointing, considering the screen size.
Comics
It's now the best Kindle device to enjoy comics. The form factor is closer to what a usual comic book is, so there is not much compensation with the need to shrink content into a small screen. I don't need to complain the words may be too small. I am satisfied.
PDFs
Reading PDFs is a big reason for me to get a Kindle Scribe, but the current experience is worse than my expectation. The big screen helps reading, but it is missing features that other Kindles have. The missing features include: 1) the ability to crop margins; 2) the ability to change the font weight; 3) the ability to change the layout orientation. I am surprised that Amazon didn't deliver those features, given that PDF reading should be a big use case.
Writing
One big difference of Scribe is that it supports writing. I have to admit that I didn't expect I use this feature much, as I didn't develop the digital writing habit even though I tried it many times. As mentioned above, the main reason is that the battery of other devices is too weak to be "always ready" when I need to write. The other reason is that Kindle Scribe is a good enough reading device. That gives me a stronger reason to keep it always by my side.
The writing experience itself feels nature to me. It's not as impressive as Remarkable, but I am not that picky. I don't need a close-to-paper experience or different types of pen touches. As long as it records my strokes well, I accept it.
The page and notebook management are quite lacking. I can't move the page around a notebook or between notebooks. I can't see the snapshots of all pages in a notebook. I can't select pages to delete. I decided to treat it like physical notebooks and create as many notebooks as I need. This way, I am able to process notes and delete them by notebooks.
Based on the product page:
Coming Soon: Kindle Scribe provides regular, free software updates that include new features. In the coming months, Kindle Scribe will add more writing tools, including new brush types and copy/paste tools, additional notebook organization options, and the ability to send documents to Kindle Scribe directly from within Microsoft Word.
Comparison
I know a lot of people compare this to other devices like Remarkable, but they are in different categories. Kindle Scribe is a reading device that a user can write on, where Remarkable is a device focused on writing with reading functionality. I tried Remarkable 1 but I don't like it. Even though the writing experience is superior, the battery is always an issue. It's annoying that when I need to jot down a thought but the device is out of battery, and it happens a couple of times to me. The backlight makes Scribe more useful, given that I need to use Remarkable in a well-lighted environment.
Verdict
Kindle Scribe is a clear keeper to me, in an unexpected way. What I had high hopes falls short, but there are places that I didn't expect to be an important factor.
It is a device for people to focus on reading and writing. The reduced functionality is a feature, so users can take back the control and be focused. In contrast, iPad has more functionality, but that means more distractions. I write on it more than I expected. It's a smooth experience – when reading, I can write thoughts down without breaking the flow.
I hope this ends my multi-year device hunting journey and hope it will last long enough so I don't need to hunt again soon.